What knitting needles do you use? Are you a fan of one single brand and won't touch another, or do you use a variety and brand isn't really important?
I started out with KnitPicks Harmony Interchangeables. They were a GREAT set for a beginning knitter. They had the perfect amount of "grab" so that I didn't constantly lose my stitches. As I improved and got faster, however, the amount of grabbiness actually started to hold me back.
A lot of good things were said about Addi Lace. I purchased several. They are great needles, very sturdy. I always felt like I was going to snap my Harmony needles in half. After a while though, the cable on the Addi circulars began to irritate me, it didn't have enough give. Then there was the fact that I was constantly poking holes in the tips of my fingers. Between that and the callouses from having to constantly test my sugar (GD with both babies), my index finger will never be the same.
Somewhere around that time, I purchased a size 4 SQUARE knitting needle. It felt pretty good to work with, but that cable had too much give and was twisting all over the place! I couldn't win! Rumor has it that they have re-worked their needles some. Very curious about that.
My LYS had started carrying Hiya Hiya Interchangeable Sets. Everyone was raving. I bought a set of the small sizes (2-8). These needles…the cables swiveled! What joy, what bliss! So I sold my Harmony Interchangeables and am putting some of that money directly towards more size 2 tips. What me? Sock knitting addict? Never.
What actually prompted this post was some comments on Ravelry about Signature Needle Arts and their new size 1 needles. Someone mentioned the price, so I had to go look for myself. Yup, circulars are $42 and straights are $34. I am FASCINATED by this. Truly. I don't discount what must go into a product to warrant that price, I would just love to know what the experience is like. Unfortunately, I simply cannot justify buying even one pair of needles to find out and will have to live vicariously through some of you.
So have any of you, my dear readers, used these needles? Please tell me what you think, and how they compare to other needles, especially any of the ones I mentioned above.
I'm behind on updating, I know, sorry about that! Here are a few short blurbs while I finish working on my review of the super nifty tool I mentioned before.
The Trapeze Mystery Knitalong is coming along amazingly well. I finished up Clue #3 this morning!
Won a copy of the premier issue of The Sock Report from the talented Hunter Hammersen's site, Violently Domestic! I can't wait to have it in my hot little hands!
A few weeks ago, I sold my set of Harmony Interchangeables in favor of my super amazing HiyaHiya interchangeable set. With some of that money, a skein of sock yarn I've been drooling over for a good month has found its way to my house. This is my third skein from the talented ladies of Ladybug Fiber and each new skein makes me love them even more! Isn't this AMAZING?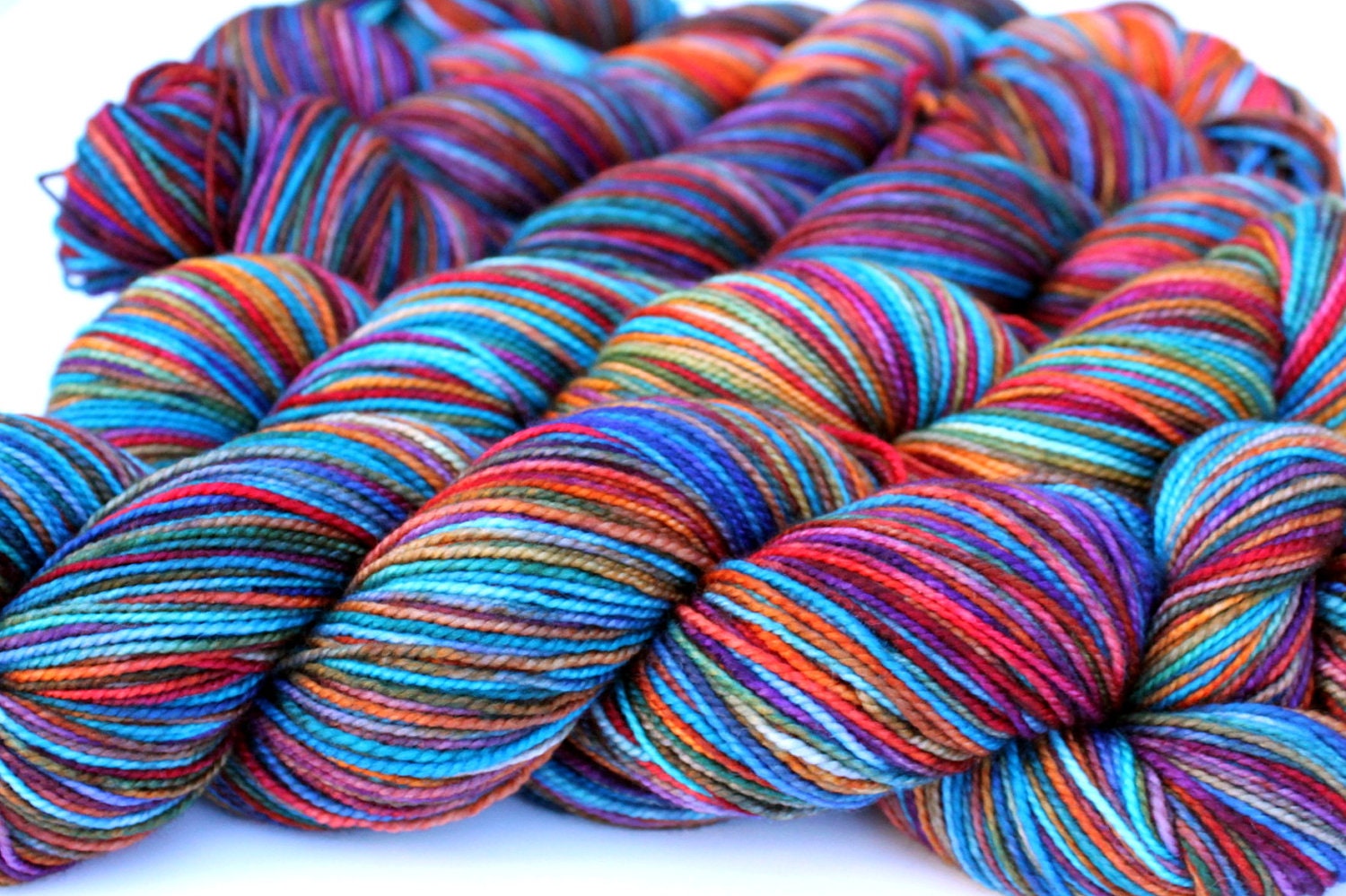 Ok that's all for right now. This weekend is my knitting retreat and I'll be busy packing up a zillion projects to take with me, but I will try and finish up that product review and be back soon.
What's on your needles?
I made this bracelet out of DK yarn and a gorgeous button I found at my LYS. Little Red picked out a button for herself, so I'll be making her a similar bracelet soon. It's just a 5 stitch i-cord knit until it wraps around the wrist 3 times, then secured.
Since yesterday was September 1st, I cast on a pair of socks in a gorgeous red for Sock Knitters Anonymous on Ravelry. The yarn and pattern are both gorgeous, but I am screwing it up left and right. First, I forgot some yarnovers and ended up 2 stitches short after the picot edge. Then I keep forgetting which row of the 4 row repeat I'm on. It's a very simple, easily memorized repeat, and I'm making a mess of it. Not sure what's up with that. Hope my brain wakes up soon.
Tomorrow is Labor Day and the knitting group is meeting up to celebrate. Might be a good chance to try and do the gussets on my Owlie socks.